addie

will be five months old on the 15

th

and i think that i need to write her birth story here before i forget any more of the details.
please understand that i am warning you ahead of time about a few things.
1. there are a TON of pictures
2. some of the pictures are going to be pretty gross to some of you.
3. i was HUGE (approx. 245 lbs.) not to say that i am petite now but i am 40 lbs lighter and have intentions of loosing at least 40 more lbs.
the morning of

nov

. 14

th

2008 i woke up knowing that i would be induced. i called the hospital and they said that they were full. those who know how miserable i was (MY WHOLE PREGNANCY)will understand when i say that i cried when i heard that. i needed that girl out!
i toughed it out the whole day while having bouts of emotion over still being pregnant and sadness that i would never be this way again.
as the day wore on i was irritated that we never got maternity pictures so i went upstairs and did my hair and makeup not knowing if i would even get into the hospital that night. a bunch of crazy ladies kept going into labor and taking MY BED! i got my husband to take a few pictures of me even though it was getting darker and darker outside. i was determined that this was going to be done even if it was raining outside.
this was a good as we could get and you gotta love the sign that

i'm

sitting next to.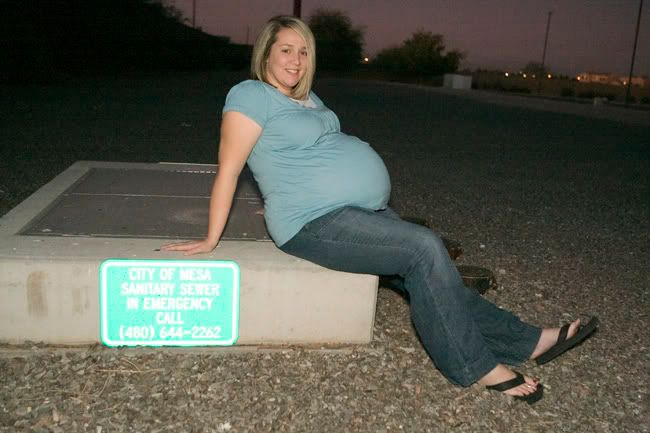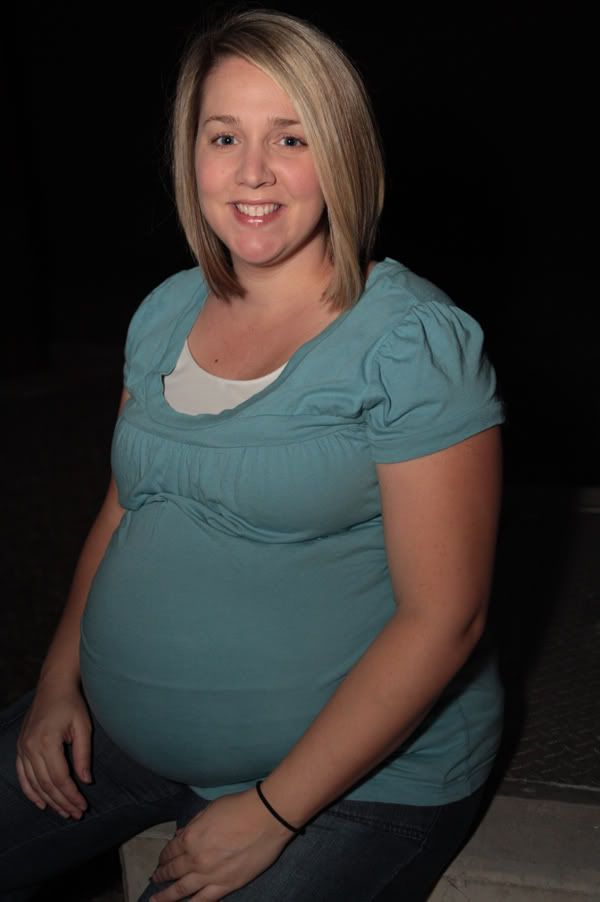 looking at the pictures of this large belly, i am
reminded
of how
absolutely
amazing the whole process really is. heavenly father is SO wise.
THERE IS A PERSON IN THERE!



i wanted this to be more like the pics that i took with each child before a new one would come ( them standing next to me with their hand on my belly with all of us in the picture) but this is what we got and this will do. YES! i have stretch marks but my husband photoshoped most of them out.



i got the phone call about 5:00 pm that they were ready for me and that i should eat a little something cause they wouldn't feed me until after the baby was born. i ate a yogurt and someones (probably tatums) leftover apples and peanut butter that was on the table for who knows how long.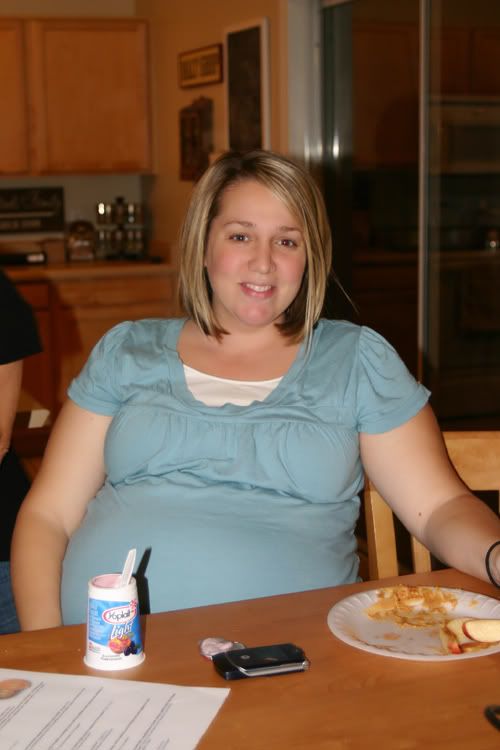 doesn't jeff look so sweet in this picture...like he really loves me. :)




we were on our way with the million and one things that we had packed and ready to go.

we were on our way to the car and our baby came running out to us crying and it was such a sad moment for all of us. i think we were all realizing the reality that

tatum

was no longer the baby and that was so sad. i was trying not to cry in front of her.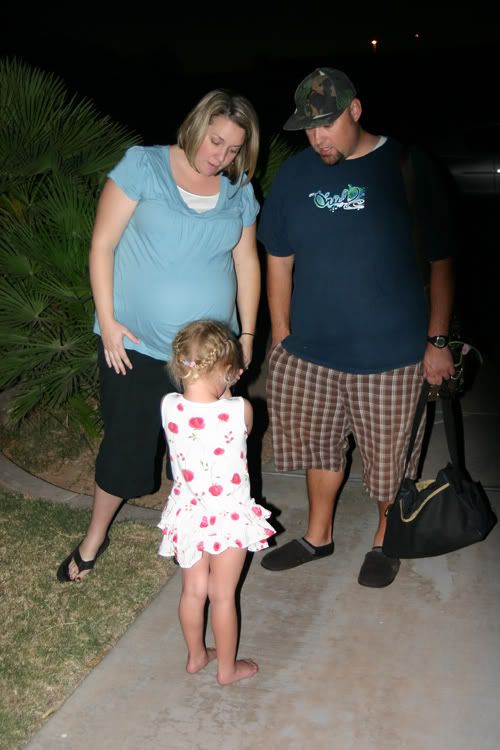 we picked her up and gave her love and let her know that she would come see us in the morning and hold her new baby. i cried when we got in the car.
when we got to the hospital they informed me that i wouldn't be induced until about midnight because i had tested positive for strep so they needed to do two 2 hour rounds of antibiotics. i had no idea that when they put the antibiotic through my veins that i was going to wish i was dead. my whole left arm was on fire.

jeff

called the nurse and she put

lidocane

in my I.V. ...why don't they just do that in the first place?!? i was also dilated to a

stretchy

4 cm. when i got there. that didn't surprise me one bit. i knew she felt like she was falling out. i don't know how i could have possibly gone another week and a half.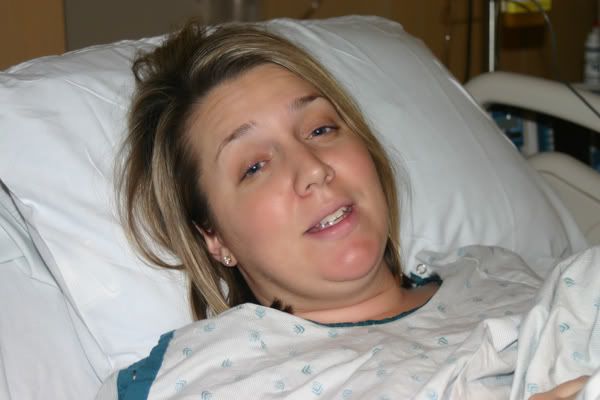 while i was waiting around, three of my sweet friends came to visit me. (

ashley

, amber and

sarah

) they had just gotten back from toilet papering one of our friends houses...silly ladies. i wish i could have gone. :) my favorite gift was the country edition people magazine...i don't love country music so i didn't know who in the heck the artist were that i was looking at. they stayed until an hour after i was induced which was beyond sweet

considering

that all three of these girls are early birds and like to be in bed at a reasonable hour. i

informed

them that they would need to leave in 10 or 15 min because there company wasn't going to be fun for me anymore. (laughter and talking in the middle of contractions is NOT

ok

with me, i need to focus)

i wish this picture was bigger!

jeff

found this bra behind the couch while he was moving it so that

sarah

and amber could sit closer to me.

jeff

is such a goofball!


things got pretty intense after they left. i like to see how long i can go without any drugs. with

jenna

i ended up having her natural. the

anaesthesiologist

came in and asked me if i wanted drugs because he thought that i had called for an epidural. "nope not me but it might not be too much longer. you better

hurry

and get to the other girl QUICK, if she asked for it she doesn't want you standing in here talking to me"! it wasn't long after that that i felt pain like i had never felt in my other labors. i felt like i wasn't getting any breaks from the pain. i sent my sister to get

dr

. feelgood. somehow things weren't going like i wanted them to (i actually told my mom and my mother-in-law to shut-up, now i would have to be out of my mind in pain to say that to either of them, i

apologised

to them later) i woke

jeff

up and sent him out to find me an epidural. IT TOOK FOREVER for him to get there! once he was there they sent everyone but

jeff

out of the room. he

actually

botched the first try and had to do it all over again...i don't like to be practice, just give me someone who know what they're doing. i have never agonized so much during labor, i am the quietest while laboring and giving birth...NEVER a peep. i did WAY more than peep. i will never forget that experience. i think that

jeff

was quite concerned. he had never seen me that way. i remember actually pinching his neck and his cheeks and pulling on his clothes...that is SO out of character for me.
i got comfortable and labored in my sleep and was awaken by my little girl knock, knock,

knockin

on heavens door, she was rip

roarin

ready to shove her way out. the nurse checked me, she was

coming

. she put my legs in the

stirrups

and asked me to push..."YEP!

ok

, don't do that again yet

i'll

be right back,

i'm

going to get the

dr

." then she returns, "he'll be here in ten min" all i could think is, how am i going to hold this baby in for TEN MORE MIN!?!?! she left and returned again,

proceeds

to remove all of the delivery gear and takes my leg OUT of the

stirrups

, "what are you doing!?!?!?!" "the

dr

. is at the other hospital and he is in the middle of another delivery, he won't be here for another FORTY MIN. here is the menu if you order your food now it should be here by the time your baby comes out"! was that supposed to make me feel better? don't i look excited?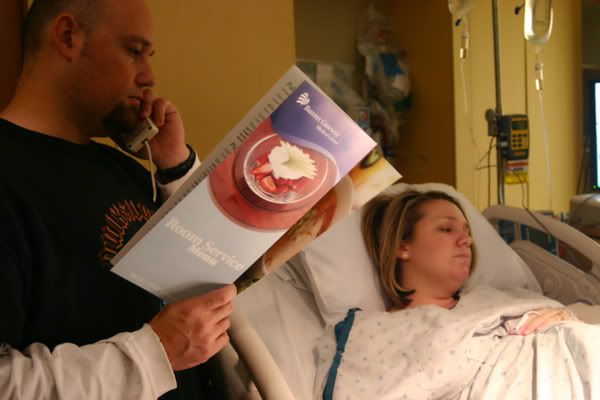 we got the call that the

dr

. was almost there so she started to get me ready again. lights, camera, action! WHOA! look at that belly!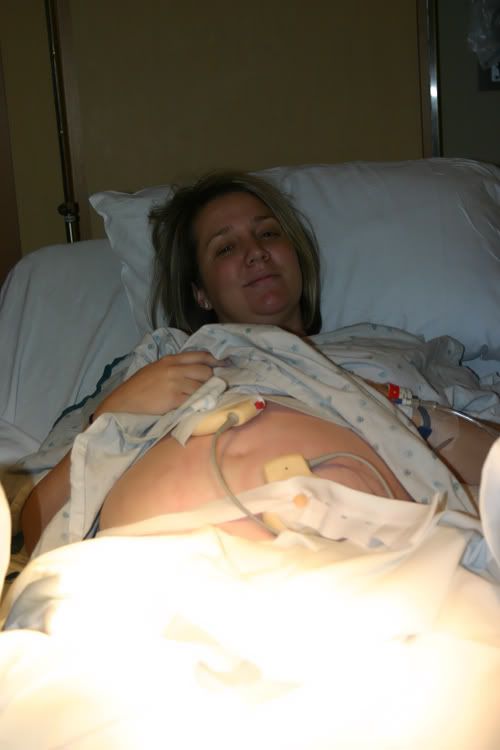 when i saw this picture i totally thought it looked like i was giving birth to E.T.

one of the special things about having

jeff

for a husband and having an epidural is that you never know until you look at the pictures that he has done something like this.


i thought this was so funny from my angle so i had to get a picture. i

grabbed

the camera from my sister and took these next three while trying not to let my baby drop out.

when

dr

.

lepetich

walked into the room i yelled, "YOU'RE FIRED" he just laughed and asked why. well, i let him know why wit no hesitation.
notice the red bag at the bottom of the picture. well, the nurse forgot to put it under me and the whole room was a mess. it just splashed EVERYWHERE! the

dr

. was COVERED!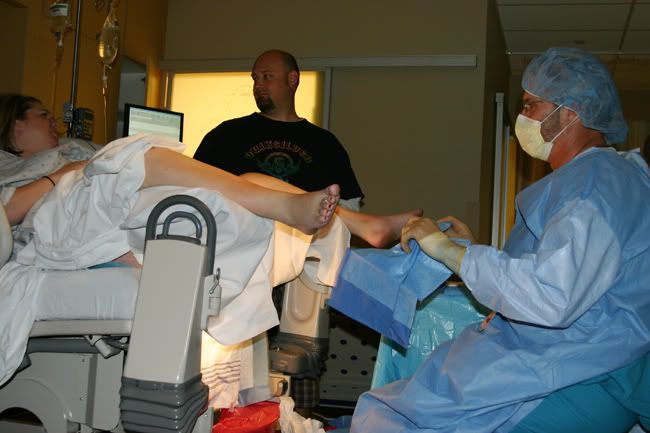 after a few pushes out came her pretty head and everyone was saying, "

ooooh

she looks just like

tatum

"

i'm

gonna be honest it is a little weird to have people staring in your crotch and saying that it looks like one of your children. i hadn't seen her head yet so that is just what it felt like.

dr

. L. turned her so that she was facing

jeff

and i and told me to reach down and pull her out. i wish now that i had but for some reason in that moment it seemed like an impossible thing for me to do.

jeff

and i each grabbed one of her hands and she grabbed back. i pushed my last push and out came our sweet

addie

.
i love being able to hold my baby right away. i love to whisper sweet nothings in her tiny new ears so that she knows that her

Mommy

hasn't gone anywhere.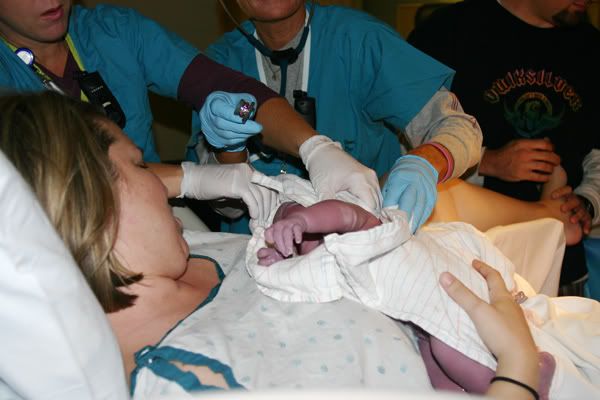 i think this is such a cool ritual that us humans do. i think it is so appropriate that daddy should be the one to sever the thing that

physically

connects a mother to her child. kind of like saying, now you belong to both of us.

really gross i know but my mother-in-

Law

started

this with

tristan

so we had to take pics. of all of the kids first homes. :)

i'm

glad she talked me into it because it is so cool to me and

dr

.

leptich

loved it too. he sat and messed with it for a while and was so amazed by it like he had never seen one before. he made the whole birthing process amazing for me. he loves his job and it shows. he pointed out that it looks like a tree...the very first tree of life. :)

here we are. this is the worst pic, i know but it WAS completely black before and no faces were

visible

so it actually looks amazing in comparison.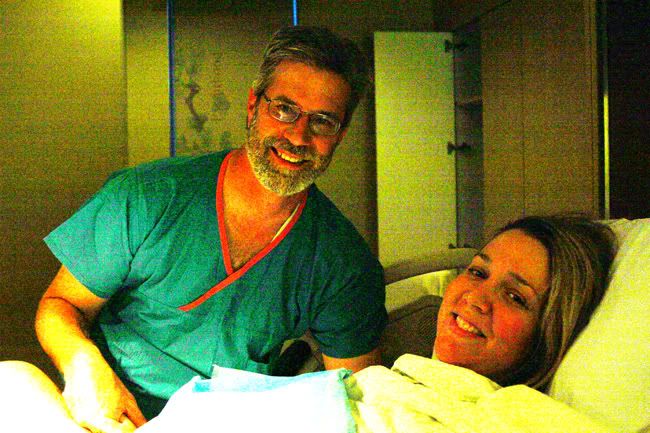 my nurse was right, just as

addie

came out there was a knock at the door and there was my food. i ate while he

stitched

me up. i had no idea how HUNGRY i was until the first bite went in to my mouth. birthing a baby is heavy duty work man.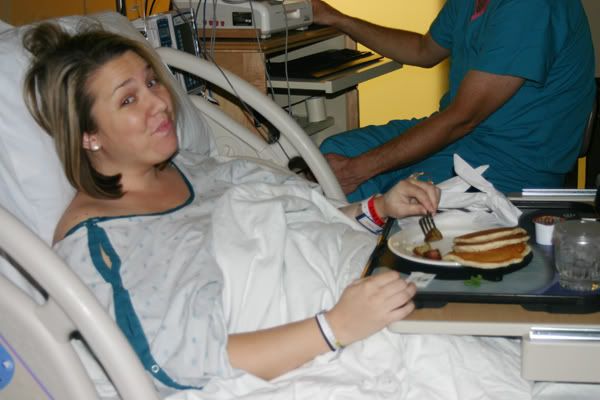 this is

addies

first bath. i am amazed every time how rough they are with the babies. they really scrub the heck out of them.

all clean!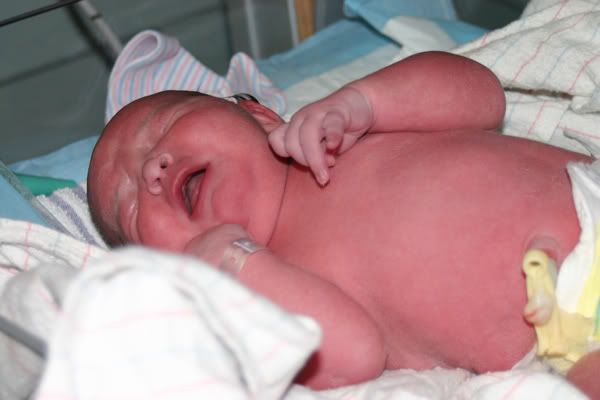 daddys

hand next to her calmed her right down.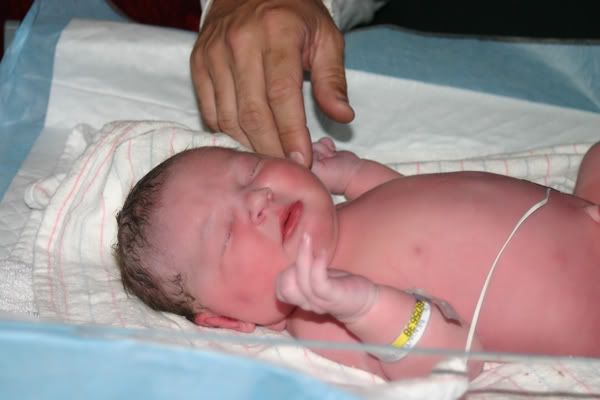 this daddy loves his baby girl so much!
jeff

letting me smooch on my

li

ttle

girl a bit.

WOW! don't i look lovely!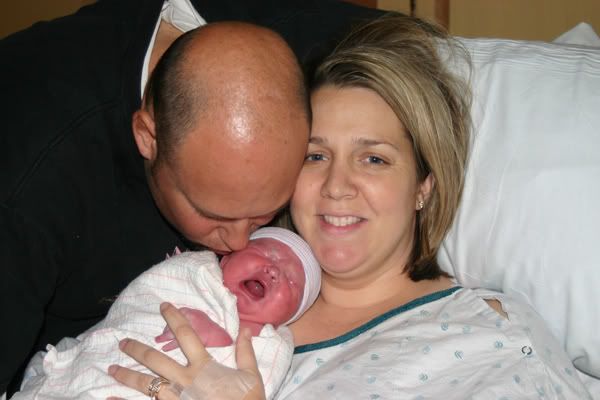 tristan wanted to hold her first so we let him cause we felt kind of bad for him that addie left him being the only boy. :)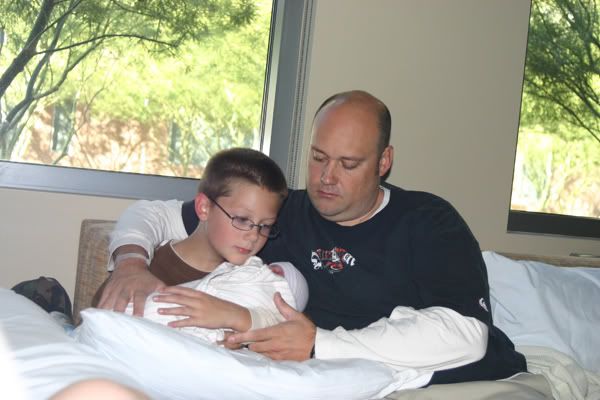 looking at all of her small stuff.
me and the not so baby...and her cornnuts.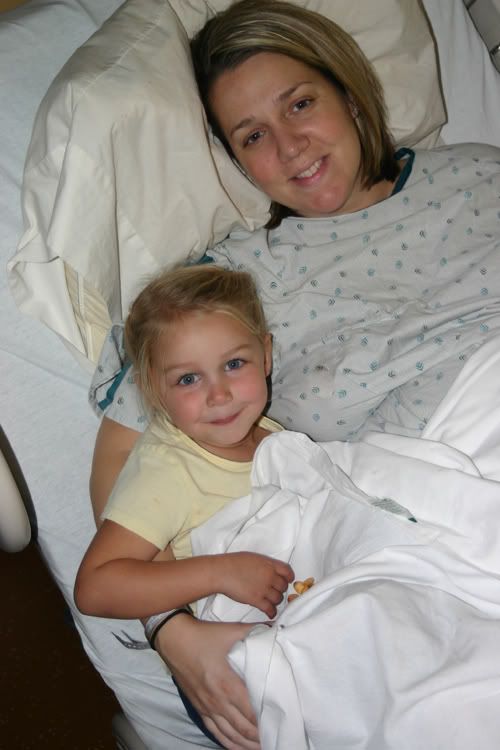 me and my kiddos.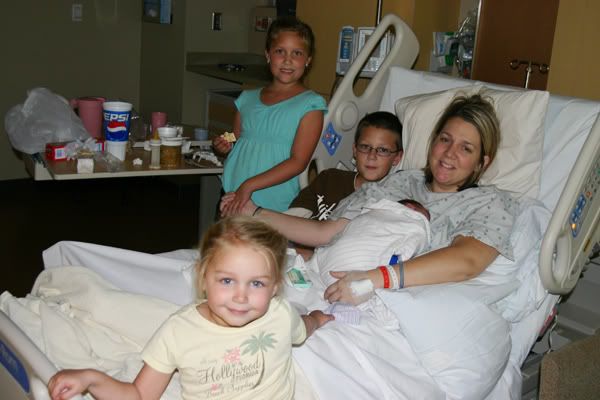 i wanted a picture of my whole family in the hospital and the one person who is supposed to have the most self control could NOT look at the camera. he was teasing tatum in EVERY picture. thank you jeff, for making this such a special picture for me.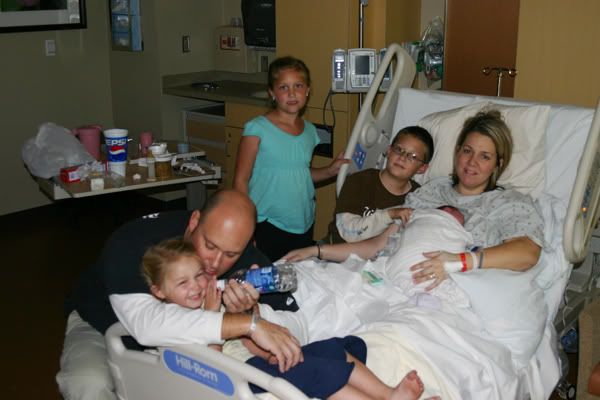 i was ready for a nap!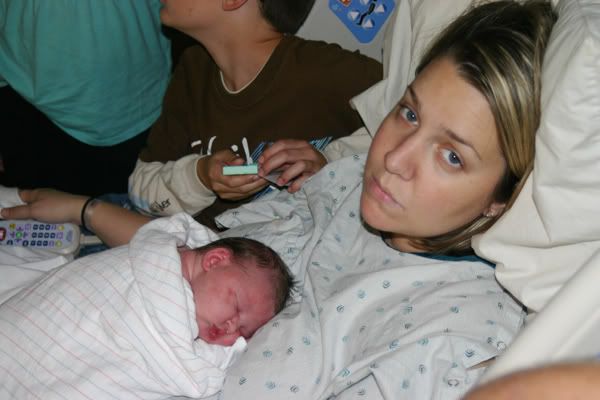 addies first game of peek a boo. what a sweet sissy.
notice jeff has no facial hair? he shaves it off the day that every baby is born. he wants to kiss all over those sweet faces without hurting them. :)
and this is our photographer/my sister/aunt shelly! thanks for all of the great pictures!