remember if you want a reality blog come here. if you want someone to lie to you about how AMAZING their life is you are in the wrong place!
i had every intention of enjoying my sisters visit to the FULLEST...i really did. i was so excited to have her here while jeff was in florida doing his half ironman. i was going to have the house clean and along with that i had the idea that there would be A LOT of fun and laughter.
for days before shelly arrived i had a headache that would not go away. this meant that the house cleaning was absolutely minimal. i also got little to no sleep the night before for a # of reasons. when she got here she helped me clean out the girls room and throw things away that they just don't need and get us ready for our move. i had a headache at the time but it was easier then doing it on my own so i took complete advantage of here help.
what i will say to make this short is:
i didn't sleep at all while she was here
i had a headache every day, including the 3 1/2 hours of the 4 free hours we had without kids.
i got the biggest, nastiest fever blister i have ever had in my life, and i've had a lot of them. what you probably don't know is that theses things tend to take over my whole life while i have them...it HURTS!
i got a special lady infection.
my baby had a fever for three of the days...pretty grumpy. double ear infection.
shelly took her turn on sunday with a nasty headache.
and after i dropped my sister off at the airport i got a visit from aunt flow and if you know me you know when she comes to visit i'm pretty much stuck at home.
super fun visit shelly. glad we could get together. next time we'll meet in hawaii! :) even with all of the nonsense i enjoyed having my sister around. we don't get to see each other much. i love you shell! thanks for your help.
as if the last 5 days weren't action packed enough, jeff spent a couple of hours with us last night while he tried to stay alert. (he is exhausted from the ironman and no sleep) he couldn't even wake up enough to come sleep in our bed with me. come to think of it, maybe it was all of the stuff above that kept him out of our bed. :) and then before we got up this morning he was out the door again headed to cali for work for 2 days. 7 day without a husband/daddy. i know that people do it for way longer and that other people have worse issues than me but i think it has all just added up.
to add to my adventure addie was up most of the night last night and when we got up in the morning i could see what was keeping her up.
this poor little sweet heart is having an allergic reaction to her antibiotics.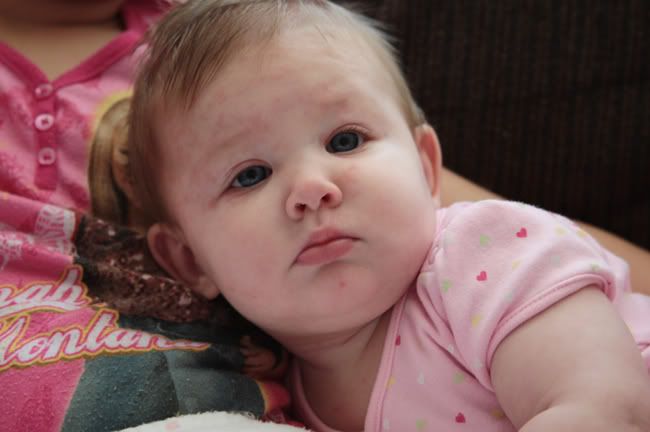 it's all over her face and in her hair and now that it's later in the day it has traveled to her stomach and her limbs.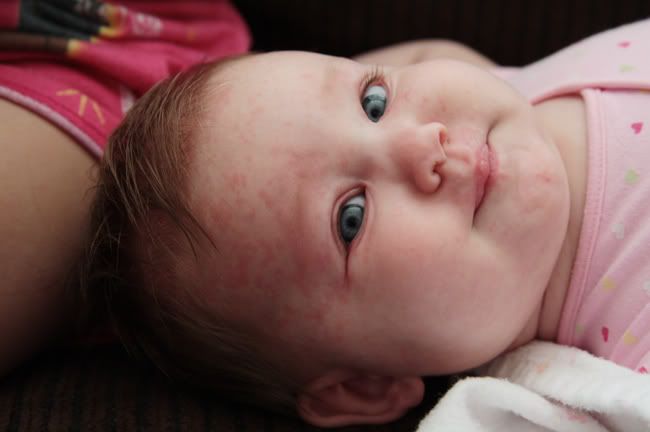 i was going to give her benadryl but i'm afraid because on the label it says DO NOT GIVE TO CHILDREN UNDER 2! that kind of scares me.
i'm tired and i am TOTALLY feeling sorry for myself. i am DONE being alone and feel like i deserve some assistance. i know that at this stage it is out of jeffs control because he's working but i HATE this garbage sometimes. i really feel like a single mom sometimes and it is exhausting.
do you know of anyone who has a free maid service? :)